Canadian Bank Notes from 1969 to 1975 by Sherryl Reid April 1, 2021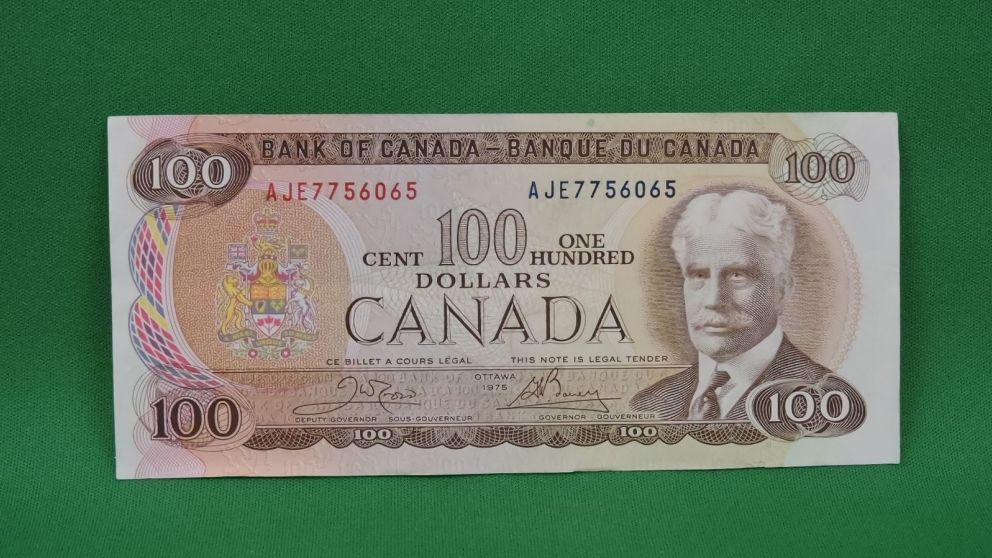 Canadian Bank Notes from 1969 to 1975
by Sherryl Reid April 1, 2021
Canadian Bank Notes from 1969 to 1975.
Because of concern over counterfeiting, the Bank of Canada released a new series of bank notes starting in 1969.
This series represented a complete departure in design from earlier issues:
colourful, wavy patterns were introduced;
a new series of Canadian scenic vignettes was created;
portraits of former Canadian prime ministers were re-introduced.
The main characteristic of the new design was the use of multicoloured tints beneath the dominant colour. This series was often dubbed the "multicoloured series".
Engraved on the front of the $100 note dated 1975 is a portrait of Prime Minister Sir Robert Borden. A vignette of the harbour at Lunenburg, Nova Scotia is featured on the back.
Engraved on the front of the $50 note dated 1975 is an engraving of William Lyon Mackenzie King. The dome formation from the RCMP musical ride appears on the back of the note.
Engraved on the front of the $20 note dated 1969 features the Gunderson engraving of the Queen. Moraine Lake in Alberta's Valley of the Ten Peaks appears on the back.
"Information attributed to Coins and Canada website."
---