Manon Rhéaume - The First Lady of Hockey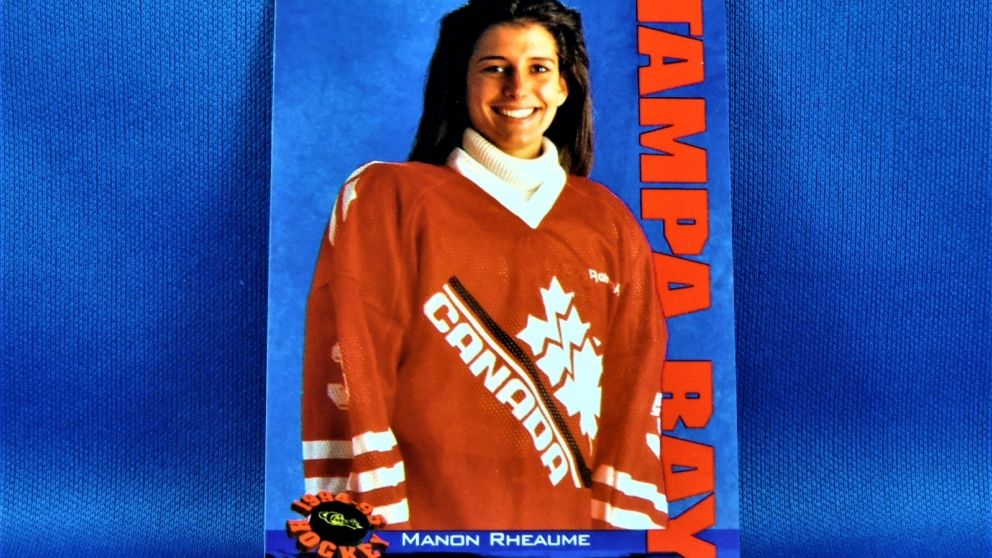 Manon Rhéaume - The First Lady of Hockey
by Sherryl Reid January 9th, 2021
Manon Rhéaume, a Canadian, is widely known as the first lady of hockey. Her hockey career was notable due to her talent and the many times that she was the first female to play in many different men's hockey leagues.
Manon Rhéaume, born on February 24th, 1972, began her hockey career playing for the Sherbrooke Jofa-Titan squad in the League Régionale du Hockey as Féminin in Quebec, Canada.
Her notable firsts include:
In 1984, first female goaltender to play for a boys' team in the Quebec International Pee-Wee Hockey Tournament.
In the 1991-92 season, first female to play in a men's Major Junior Hockey game. Rhéaume signed with the Trois-Rivières Draveurs - part of the QMJHL.
On September 23rd, 1992, Rhéaume was the first woman to try out and play in a National Hockey League game. She played in an exhibition game for the Tampa Bay Lightning against the St. Louis Blues.
Also in 1992, Rhéaume was selected for the Canada national women's ice hockey team. This Canadian team won gold medals in the 1992 and 1994 IIHF Women's World Championships. Manon Rhéaume was named to the All-Star team both years.
In 1998, Rhéaume won the silver medal at the Winter Olympics in Nagano, Japan.
Even though Manon Rhéaume has retired from playing hockey, she is still very involved in the sport. She has served as a goaltending coach, a marketing director, trainer at hockey camps and a coach of a girls hockey team.
She has a legacy that should make her and all Canadians very proud.
Check out the Manon Rhéaume hockey cards offered on the "Soldoutright" Shopify Store. Please peruse our collection and keep coming back as we will be adding other hockey greats in the weeks to come.
https://soldoutright.myshopify.com/collections/trading-collector-cards-hockey/products/classic-games-collector-cards-1993-120-manon-rheaume
---