" Belt Buckle Collecting"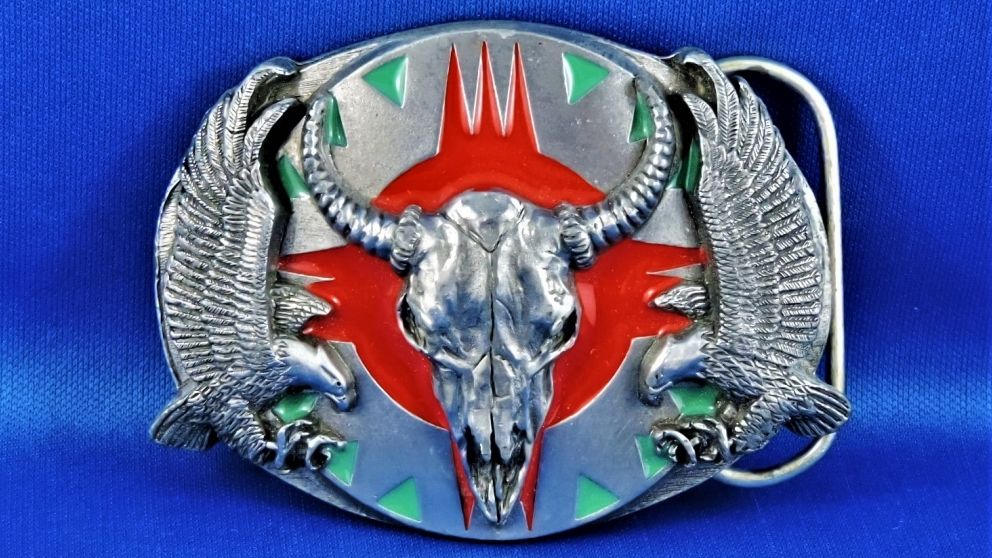 "Belt Buckle" Collecting
by Sherryl Reid January 9th, 2021
Collecting "Belt Buckles" was huge during the 1980's and early 1990's. During this time, "limited edition" buckles were considered a good investment. There were magazines during this period that contained information and advertising for belt buckles. Two of these magazines were Buckle Buddies Magazine and Basically Buckles Magazine. Magazines were a great asset for collectors.
Vintage Buckles sometimes consist of brass, silver or pewter and a variety of stones or crystals can be found embedded on the buckle. These products allow for a wide diversity of buckles. Because belt buckles are considered a fashion statement, everyone should be able to find a buckle designed for their taste.
Buckles designed by the Siskiyou Buckle Company were some of the most beautiful and ornate manufactured. An example of a Siskiyou buckle - "A Buffalo Skull and Two Eagles with Red Enamel" - can be found on our Shopify Store.
Belt Buckles were designed to advertise companies, products, special events and sometimes well known personalities. In our Shopify Store, we have several designed specifically for promotions. Examples are: Westjet, Captain Morgan, White Farm Equipment, John Deere, Budweiser and, of course, Elvis Presley, one of the most famous personalities known throughout the world. My personal favorite belt buckle is the Duesenberg Straight-8. It is brass and was hand made. It was manufactured in England in the 1970's.
The Belt Buckle depicted in the image above was manufactured by the Bergamot Brass Works in 1978. This brass belt buckle is the shape of a pistol/revolver hand gun. Stamped on the back is "Made in USA", "L-156" and "1978 Bergamot Brass Works". Belt Buckle images in this Blog will change from time to time.
Check out the BeltBuckle Collection on SoldOutright Shopify - https://soldoutright.myshopify.com
https://soldoutright.myshopify.com/collections/belt-buckles-vintage-new-and-used/products/belt-buckle-buffalo-skull-and-twin-eagles-with-red-enamel
---