Northern Lights in the Moonlight - 2016 $30 Silver Coin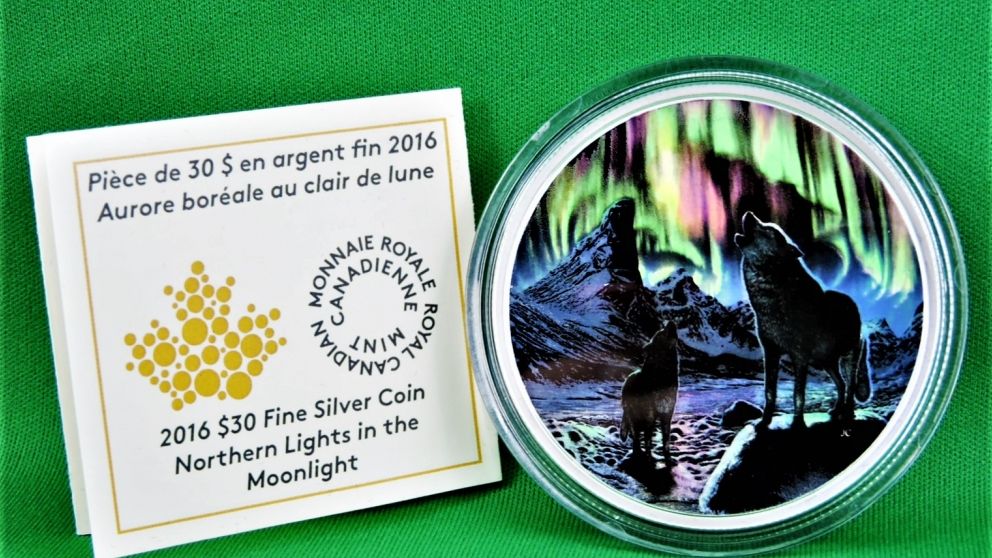 Northern Lights in the Moonlight - 2016 $30 Silver Coin
by Sherryl Reid January 6, 2021
The Royal Canadian Mint (RCM) of Canada is considered one of the top mints of the world (currently #2 behind the US Mint). The RCM produces all of Canada's circulation coins and manufactures circulation coins on behalf of other nations.
The RCM is also known throughout the world for its innovative minting techniques. Every year, the Royal Canadian Mint releases new issues that are so unusual that they sell out very quickly. One of their more popular innovations was the "Glow-In-The-Dark" technology.
"Glow-In-The-Dark" coins are highly collectible and extremely beautiful. Place any coins with this technology under a light and they will recharge for a simmering, mesmerizing effect.
One of my personal favorites is the "Northern Lights in the Moonlight" $30 silver coin minted in 2016. The "Glow -In-The-Dark" technology recreates the aurora borealis in the sky above Thor Peak on Baffin Island, as two wolves howl in the Arctic landscape below. The end result is picture perfect.
This $30 coin is 99.99% pure silver and is available in our Soldoutright Shopify Store under the collection "Coins and Currency". We have many coins available with many more coming soon.
https://soldoutright.myshopify.com/collections/coins-currency/products/silver-coin-2016-30-rcm-northern-lights-in-the-moonlight
---