Royal Canadian Mint - Wanduta: Portrait of a Chief - 2016 - Canadian Tradition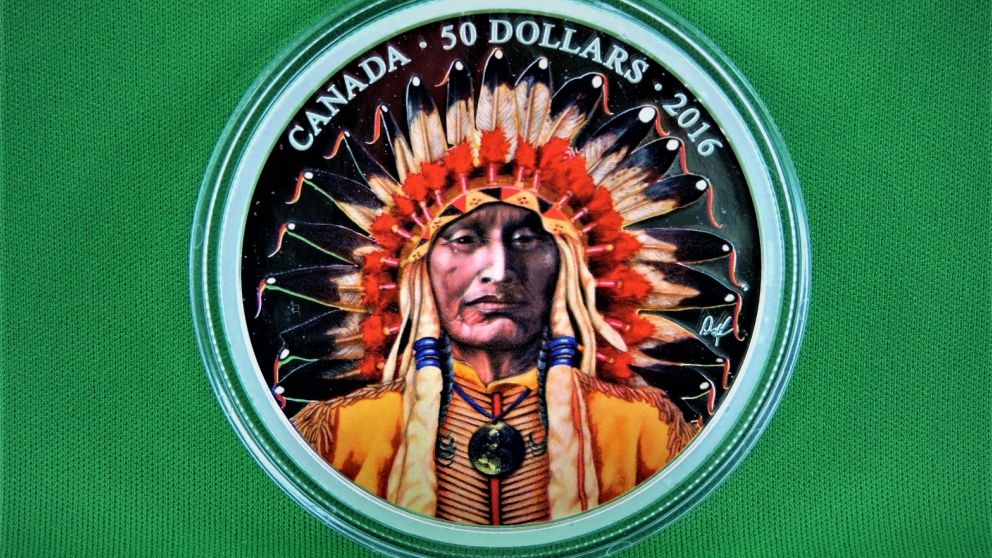 The Royal Canadian Mint
by Sherryl Reid September 14, 2020
The Royal Canadian Mint in Ottawa, Ontario produces Canada's circulation coins and collector coins. Several coins come in gold, silver, palladium and platinum.
After the Confederation of Canada in 1867, all Canadian coins were minted in England at Britain's Royal Mint. It was not until 1908, over 40 years later, that the first coin was minted on Canadian soil but it was still considered a branch of Britain's Royal Mint. The first coin minted was a silver 50 cent circulation piece with the effigy of King Edward VII on the obverse side.
In 1931, during the Great Depression, the facility in Ottawa was renamed The Royal Canadian Mint after gaining full independence from Britain's Royal Mint. Canada's ties to Britain still remain very strong as the Queen's effigy still graces all Canadian coins.
In the late 1960's, the Ottawa facility was reaching capacity so in 1976, the Royal Canadian Mint opened a new facility in Winnipeg, Manitoba. All of Canada's standard circulation coinage is produced in Winnipeg, as well as coins for more than 75 other countries. Coin production here can reach up to 20 million per day.
In 1987, the one dollar coin was introduced to replace the one dollar banknote. This distinctive coin has a 11 sided shape and the reverse features a loon designed by Canadian artist Robert Ralph Carmichael. This coin has earned the nickname of the "loonie".
In 1996 , the two dollar coin was introduced. It has a bi-metallic design - the outer ring is made of nickel and the inner core is aluminum bronze. Canadians affectionately call this coin the "toonie".
In 2007, The Royal Canadian Mint made history. A 99.999 per cent pure, 100 killogram gold bullion coin was launched with a face value of 1 million dollars. The Guinness World Records certifies that Canada's "Million Dollar Coin" is the world's largest.
In 2012, the last penny was struck on May 4th at the Winnipeg Mint.
This story comes from "The Royal Canadian Mint Celebrates 75 Years of Superman" magazine printed in 2013.
Throughout the history of the Royal Canada Mint, the coins struck here in Canada have been coveted by collectors world wide.
Check out the Royal Canadian Mint coins offered on the "Soldoutright" Shopify Store.
The coin featured is Wanduta: Portrait of a Chief. It is a $50 silver (99.99% pure) coin struck by the Royal Canadian Mint in 2016.
---